January 15th, 2006 by Martha

Standard Podcast
Play Now
|
Play in Popup
|
Download
Welcome to the Paul and Martha World
A night of firsts!
First Podcast for Martha
First BEERcast
I don't drink alone.
ADDcast on hiatus. Been working on the Balticon Podcasts
LaundryCast Number 2. Clean clothes, a beer, and a Podcast.
MORE BEER
ADD Drugs
Non-stim Strattera

Still getting used to the side effects
There are about 7 gazillion of them and I got most of that at one time or another
Paul has morning sickness
Insomnia
Coffee from Heavenly Hawaiian Farms Coffee
Bathroom refurbishing
One contractor come and gone
Lots of stuff bought
No work actually done
Expensive bathroom shit. $2000 just for a sink bowl. Who can afford this shit?
Reico Kitchen and Bath, no actual quote received after several weeks, visits, and calls.
Manufactured stone counter tops
Toilet Trees
The F Bomb
Saved by New York Lou, The Architect
Got the vanity at Home Depot, for way less than what Reico wanted.
He ripped up his house, one room at a time, and refurbished it while they were living there.
He does awesome work.
He lives in a sitcom, his in-laws live downstairs in the basement apartment.
He's been working on it evenings and weekends for years.
S.I.T.C.O.M. – Single Income, Two Children, Oppressive Mortgage
Martha takes my beer
Hurricane Katrina Stories
I was born a poor black child
Martha has college friends and relatives in the effected areas
Barry tries to commit suicide by tree. But on the lighter side, Ron and Lin have a new skylight.
Patti's house is still in good shape
Teaching old people to use cell phones
Pants calls from my father
Dauphin Island
10% of the houses on the west end of Dauphin Island are still standing.
Gotta love the Ship and Shore
The Cow and Bean
The Lighthouse Bakery
Help the victims of Hurricane Katrina
Local Church, Mosque, Synagogue

Time

Cook meals
Organize and sort food and clothes donations
Organize a car wash so you can get money to donate

Blood – Don't be a wussy! GIVE BLOOD!

Paul gets on his soap box
Free Cookies! Woo Hoo!

Share living space

Barking Spiders
Martha loads the dryer
Paul says, "Y'all"
The video clip will be in the Podcast feed next week.

I'll put some pictures here for you to see

SEND EMAIL win a prize

RCA Cable, Ethernet Cables, Power Cables
ADDcast at gmail dot com (I write it this way to help prevent spam)

Jonathan Coulton's – "First of May"
Pictures from Scotland. For more photos from Scotland check out my website and click on the hawk.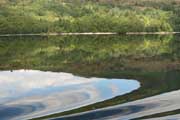 The clouds on the still waters of Loch Katrine formed fractal paisley patterns as the steamship moved through.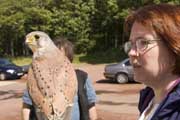 Martha at the falconry lesson in Ayr.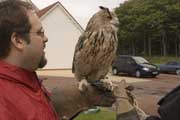 Paul gets to hold Jessica the Iranian Eagle Owl.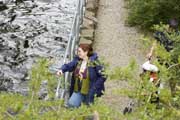 Martha contemplates the water race that feeds into Loch Katrine.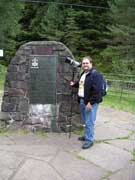 Paul poses with "The Beast (TM)" at the monument by the water race.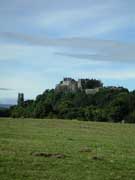 Stirling Castle from Kings Park in Stirling, Scotland.
This entry was posted on Sunday, January 15th, 2006 at 1:40 pm and is filed under BeerCast, Birds, LaundryCast, Music. You can follow any responses to this entry through the RSS 2.0 feed. Both comments and pings are currently closed.