January 15th, 2006 by Martha

Standard Podcast
[ 57:40 ]
Play Now
|
Play in Popup
|
Download
Happy Anniversary to us! Twelve years and still going strong.
Tonight's drunk is provided by Kanga's Leap Shiraz.
Yet another laundry cast.
OMFG! Someone drinking wine on a podcast!
Acquiring a taste for wine.
Lots of technical difficulties with the new layout.
On the road in Texas. Next week in San Jose.
Dropping in on The Dragon Page next weekend
Moving the mic stand to my leg made a big improvement in audio quality
Pawn Shops not Porn Shops! Get your head out of the gutter.
Thoughts on why there is always lots of audio equipment in a pawn shop.
Email us at addcast@gmail.com and we'll send you a free cable.
What is that hum we're hearing? The washing machine.
That's UNIX not Eunuchs.
The MAC addiction.
My name is Paul and I am a Macintosh addict.
Keep your tits out of the food.
You must accept that you have a problem. That is the first step.
The evil of the Pontiac Aztek. It's the ugly offspring of a mini van and an SUV.
The math of winning an Aztek.
Pause 2. The sister-in-law… Julia
We both drive Prius's now. Or would that be Prii?
58 MPG. Suck it, Biotch!
I give the finger to all H1, H2, and SUV drivers.
More WINE!
The refinishing of the Master Bath. Update 1.

Two contractors. No bids.

We mind control our audience.
Our new mixer is on it's way.
The story of the Numark mixer. Follow Up: It wasn't their fault. See next
episode.
The other mixer! Ah Ha! The amazing discount I was able to get on it. My
New Mixer
Your new culinary treat! Boom Meringue.

The creative commons license for our new treat.
No commercial reuse without paying us for it.
Boom Meringue Pie! Recipe under development

The end of the laundry. Spin Cycle. Woo Hoo. Clean clothes.
Oh! By the way. I'm an idiot. My 7am flight was on Tuesday morning not Monday morning.
ADD Drug meds need to be adjusted.
Martha's own side effects problem.
The Numark picks up a radio station again. Grrrr!
Music by Taxi Doll and Jonathan Coulton.
Waiting by Taxi Doll.
I Feel Fantastic by Jonathan Coulton.
Here are some pictures I shot during the week of 9/12 in Corpus Christi, TX. Click on the picture for a larger image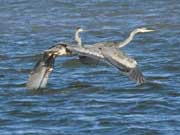 Two Great Blue Herons fight over feeding grounds.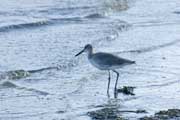 A Sand Piper feeds on the shore.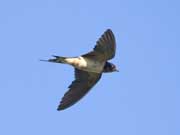 Awesome! I managed to capture a Barn Swallow in flight.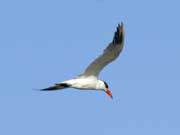 A Caspian Tern hovers in search of a meal.
This entry was posted on Sunday, January 15th, 2006 at 2:35 pm and is filed under BeerCast, LaundryCast, Music. You can follow any responses to this entry through the RSS 2.0 feed. Both comments and pings are currently closed.