January 15th, 2006 by Martha

Standard Podcast
[ 35:07 ]
Play Now
|
Play in Popup
|
Download
My First Podcast
Podcast Advisor
Dealing with ADD
When Hawks Attack
Whored by GarageBand

The Pictures – Click picture for a larger image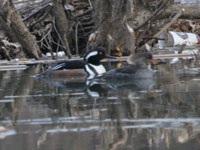 Hooded Merganser male and female. Check out the heinous trash in the background.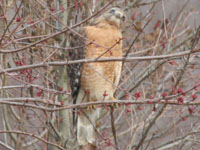 Immature or light colored Red Shoulder Hawk. This one looks nothing like
most of the ones you'll see in the wild. It's much lighter in color. This shot
was shortly before it flew to the other side of the pond.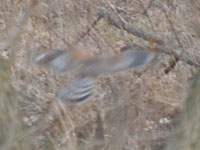 Believe it or not, this is the money shot. You can clearly see the red
shoulders on the wings. This was the only way I could identify the
bird. Because it's color is so much lighter than normal, it was a
difficult ID.
This entry was posted on Sunday, January 15th, 2006 at 11:09 am and is filed under Birds, LaundryCast, Podcast. You can follow any responses to this entry through the RSS 2.0 feed. Both comments and pings are currently closed.