December 17th, 2007 by pfischer

eBook
Download
In addition to offering its listeners their regular story for the month of
December, Variant Frequencies has prepared a special holiday surprise for
fans of the two-time Parsec-nominated FAILED CITIES MONOLOGUES, as well as
all those who've supported the podcast in the past year. We are proud to
present THE FAILED CITIES: HATH A DARKNESS, an exclusive 10,000-word
eChapbook written by Matt Wallace and produced by Variant Frequencies.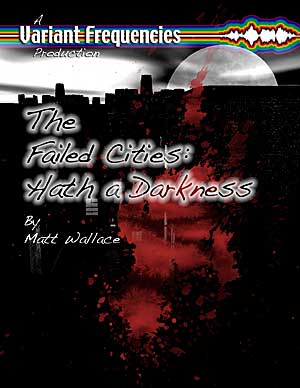 For the first time since concluding his groundbreaking podcast fiction saga,
Matt Wallace returns to the warped twin worlds he created with an all-new
Failed Cities story. Featuring the characters that drove the original audio
epic, and told, as always, in their own voices, THE FAILED CITIES: HATH A
DARKNESS brings this unique storytelling style to the page for the first
time, enhanced with original illustrations by Rick Stringer.About THE FAILED CITIES: HATH A DARKNESS . . .
To some the number 99 represents the many names of God. But as a black
snowfall blankets the Failed Cities on Christmas Eve, the arrival of 99
mysterious steel chambers is the catalyst that sets a series of far from
blessed events in motion. From bullets and bata sticks to a life-and-death
hostage situation to high-speed battles up switchback mountain roads, eight
people become links in a deadly chain that will either tether innocent lives
to safety or strangle any hope for their future. And as each part of the
story unfolds, we learn that above all things, Christmas in the Failed
Cities is a feverishly struck balance between the constant threat of
violence and the briefest, most bittersweet moments of joy.
THE FAILED CITIES: HATH A DARKNESS by Matt Wallace is a freely distributed
.PDF produced and illustrated by Rick Stringer, and available exclusively
from Variant Frequencies. We'd like to encourage all our listeners to
download, print, enjoy, and pass along this unique piece of the Failed
Cities universe as a thank you for your continued support and enthusiastic
participation in our podcast.
And don't forget to revisit THE FAILED CITIES MONOLOGUES, collected in its
entirety on Podiobooks.com
Happy Holidays from the entire crew of Variant Frequencies!
This entry was posted on Monday, December 17th, 2007 at 10:05 am and is filed under Friends, News, Podcast, sci-fi. You can follow any responses to this entry through the RSS 2.0 feed. Both comments and pings are currently closed.