January 16th, 2006 by Martha

Standard Podcast
[ 54:17 ]
Play Now
|
Play in Popup
|
Download
This episode is totally loaded with Testosterone. Almost an hour long with Eric Masiello.
The food coma episode.
We talk about God, religion, the Mormon Church, and death insurance.
Things to do just to freak people out:
Men in diapers.
Men in bra's and panties
The Pimp's and Ho's party in Las Vegas.
Zoot Suits.
Pissing off right wing whack jobs:
They get off on stopping people from getting off.
Killing is OK, in the name of politics. But no one should have fun sex.
Drunk/Stoned people are fun to mess with. Actually, most people are fun to mess with.
We import our lower class people into America. But we don't complain because we're pretty high on the food chain.
Auctioning off Eric to a single woman.
We get into talking about online dating through match.com and other sites.
Don't lie about yourself online, people. Eventually, you will have to meet face to face.
Match.com hates married people.
Adding to Paul's list of "First up against the wall when the revolution comes." This week's addition is "bad programmers".
Sushi burps!
Eric has met 7 women through match.com.
Paul's equation for getting laid.
This week's track, Breakwater
, is from Bottomland.
Click a picture to see it large.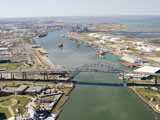 My camera flew over Corpus Christi and all I got were some awesome pictures. Whaaaaaa! Poor me! Seriously, I was working out at the CC airport configuring wireless network nodes. I was working in space operated by an aerial photography company. They were all film, and I wanted to see what my 8.3 mega pixel digital SLR could do. So I loaned it to them. They got some awesome pictures and even blew them up to 24″ x 36″ prints. Now they're buying a Canon 20D too!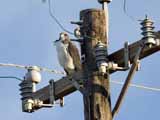 South Padre Island was a bust. No good birding sites, but the local ornithologist park ranger gave me some excellent pointers to great birding spots. On my way to the closest one, I saw thes two hawks hanging out on a telephone pole.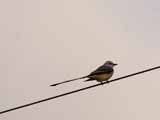 Life Bird Alert! I never saw a Scissor Tailed Fly Catcher before this one. That's what birder's call a life bird. Now I can add it to my life list, and I have the proof in pixels.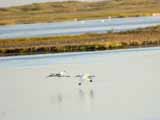 White Ibis in flight. i remember reading "The Scarlet Ibis" in school. I always wondered what it looked like, but no one could tell me or show me a picture. Well, this isn't a picture of one, but it is two White Ibis in flight.
This entry was posted on Monday, January 16th, 2006 at 3:30 pm and is filed under Music, Podcast, TestostaCast. You can follow any responses to this entry through the RSS 2.0 feed. Both comments and pings are currently closed.